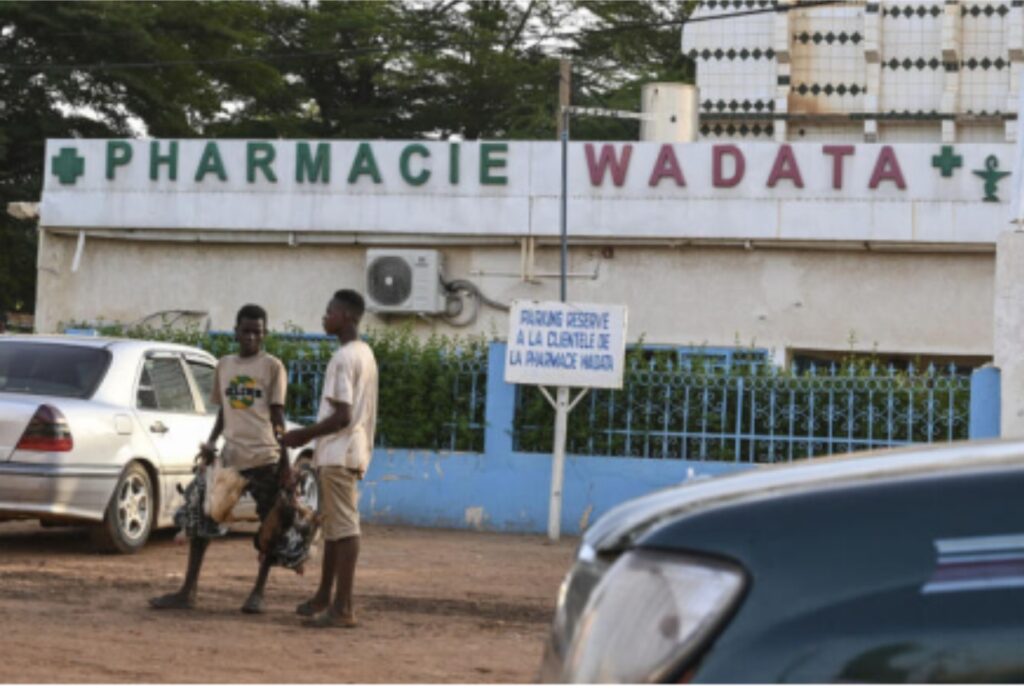 Chicken sellers in front of a pharmacy in Niamey
Hamsa Diakité, 65, cannot remember the last time the eight members of his family ate a good meal. She supported them by selling fried bread until the July 26 coup led to sanctions against Niger, reducing incomes in one of the world's poorest countries and leaving millions of people struggling without help. "Not only is food very expensive, but the price of school supplies has doubled. I also have to dress my children and, above all, take care of their health," says Hamsa Diakité.
Since elite soldiers overthrew President Mohamed Bazoum, Niger has faced economic sanctions from the Economic Community of West African States (ECOWAS) and Western countries. Neighbouring countries closed their borders with Niger and more than 70% of its electricity, supplied by Nigeria, was cut off after the suspension of financial transactions with West African countries. Niger's assets in foreign banks were frozen and hundreds of millions of dollars in aid were withheld.
These sanctions are the harshest ever imposed by ECOWAS in an attempt to stem the wave of coups in the volatile Sahel region, but they have had little or no impact on the junta's ambitions. On the other hand, they hit Niger's more than 25 million inhabitants hard. "We lack funds, medicines. People are lacking food," Louise Aubin, UN resident coordinator in Niger, said – the junta has since asked her to leave the country. According to her, there have been "positive responses" from Niger's neighbours to the idea of ​​reopening the borders for a humanitarian corridor.
A budget reduced by 40%
The third least developed country in the world, according to UN estimates, Niger received in 2021 aid of 1.77 billion dollars (around 1.56 billion euros at the time), of which more than half for humanitarian aid, infrastructure and social services. All of this is now under threat. Even the country's 2023 budget, which was to be largely financed by foreign aid, was cut by 40%. But instead of discouraging the soldiers who deposed President Bazoum and placed him under house arrest, the sanctions emboldened the junta.
According to Seidik Abba, Nigerien researcher and president of the International Center for Reflection and Studies on the Sahel, many Nigeriens, who felt that the democratic government had not met their expectations, seem to support this coup. Even though they feel the weight of the sanctions, many Niamey residents say they support the putschists. They reject the concerns of the West, which saw Niger as its last strategic partner in its fight against terrorism in the Sahel.
"The military sees that the people support them, so they use this support as a tool of legitimacy to cling to power," explains Seidik Abba. For some supporters of the junta, the difficulties caused by the sanctions are a deserved sacrifice, he adds. "Love for the homeland made us forget the difficult times the country is going through," confirms Abdou Ali, a resident of Niamey. No one cares about this rise in product prices. »
Aid workers and other observers working with the local population might disagree. " We are trying to respond to a catastrophic situation," declares Soumana Sounna Sofiane, general secretary of the pharmacists' union. Many pharmacies in Niger are running out of essential supplies as the country faces public health emergencies, including cholera. Desperate for a solution, pharmacies began giving patients medications other than those they needed.
Foodstuffs are also starting to run out. Inflation has a significant impact on the ability of communities to make ends meet, according to the World Food Program (WFP) country office. The UN agency says 3.3 million Nigeriens faced acute food insecurity even before the coup.
"Our stocks are running out"
Niger is the second largest country in West Africa in terms of surface area, but it is landlocked, making it very dependent on trade with its neighbours, which has come to a halt. Food and medicines were among the main imported products last year. Today, on the border with Benin, trucks loaded with goods and relief materials are lined up for several kilometres waiting to enter Niger, although some are in transit to other countries.
More than 9,000 tonnes of WFP goods destined for Niger and neighbouring Burkina Faso, including specialized foods for the treatment and prevention of malnutrition, are stuck between Benin and Togo, the UN agency says. In this context, Louise Aubin fears that the objective of reaching at least 80% of the 4.4 million people targeted by humanitarian aid in Niger this year will be compromised.
According to the World Bank, almost one in five Nigeriens is a livestock farmer. They were able to export live animals worth $10 million to Nigeria in 2021, but are now desperate for another market.
Across Niger, prices of basic products are increasing. The price of rice, the main staple food, has increased by more than 50% since the imposition of sanctions. "Our stocks are running out overnight because nothing crosses borders to supply us. When stocks are exhausted, we will simply close our stores," laments Ambouta Idrissa, director of a large cereal sales depot in Niamey. Other companies have closed their doors after having to incur additional costs to run generators following Nigeria's power cut.
For Nigeriens like Hamsa Diakité, who struggles to feed his family, the main concern is preventing his children from going to bed hungry. She says her hopes are dwindling by the day: "How long can we last?"
We need Nigerian trade unions to act in solidarity with our brothers and sisters in Niger. We need to demand an end to the ECOWAS blockade and to switch the electricity from Nigeria back on.