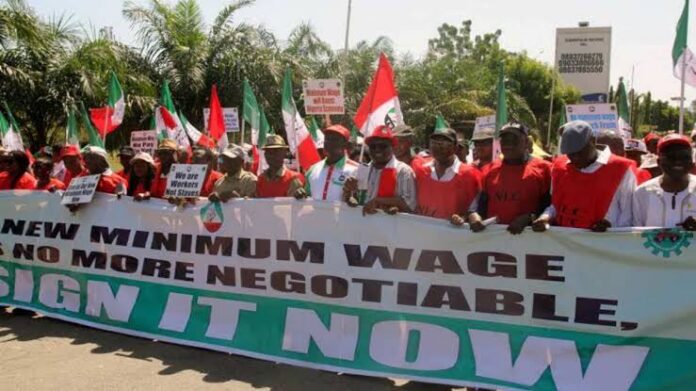 In January, 2023, workers in Federal Government budget funded bodies were given a 40% pay increase. As a result of the agreement to suspend strike action by the NLC/TUC in early October Federal workers were awarded another increase of N35,000 a month (at least for those funded by the Treasury). However, these increases do not yet apply to state or local government workers (and many others, for example, teachers, nurses, lecturers, doctors).
The Federal Government merely agreed to urge state Governors to implement a similar pay award for state and local government workers. Will this be enough for these workers to receive this pay increment?
At least 11 states have not yet fully implemented the minimum wage and many more have arrears of salaries and/or pensions. It is not lack of money in the states, it is the greed of the Governors. It is difficult for them to loot from payroll so they do not like to pay it.
All state governments have plenty of money – at the end of September, FAAC distributed a record amount of N1.1 trillion. The price of crude oil is nearly back to $100 and exports are up to 1.7 billion at day. This means that allocations will increase in the coming months and every time the naira devalues the states get more money for each dollar.
We will need resolute strike action in the states to ensure the state workers and pensioners receive the salaries they deserve each month. Experience from states that have taken such action shows that effective strikes can quickly win significant gains.
In May 2021, el Rufai, then the most powerful governor, was defeated by the NLC in only three days of strike action and mass protests through the streets of Kaduna. We can be victorious in other states where similar action is taken.
We need resolutions to be submitted to each NLC State Executive Council. These should demand immediate action from the Governors to fully implement the 2019 minimum wage, pay any outstanding arrears of salaries and pensions within the next three months and to implement a comparable wage award to those received by Federal workers.
Where the NLC in a state is not prepared to act then we need independent action by the some main public sector trade unions (NCSU, NUT, MHWUN, AUPCTRE etc). We need an action committee to be established and a submission backed with the promise of strike action within 21 days if the Governor does not agree to act. It is essential that comrades in each state take the necessary action and mobilise their trade union members (with backing by other popular forces where possible). It is only by local independent action that the hunger in the land will be reduced and your members will receive a reasonable share of the wealth that they create.

.
Demands for NLC/TUC State Councils and Other State Level Trade Unions
Many states are not paying their workers or pensioners their legal entitlements, so the trade unions should, as a minimum, be demanding the full implementation of the 2019 minimum wage, paying any outstanding arrears of salaries and pensions within the next three months and an immediate end any fractional salary arrangements.
State trade unions should also be demanding and fighting for the promised award for federal workers of N35,000 from September until a new minimum wage is actually implemented. In addition, Federal workers working directly as staff for Federal ministries received an additional allowance of N40,000 a month from January of this year. This allowance should also be added to all state and local government workers.
On May Day 2023, the Governor of Edo State announced an increase in the minimum wage to N40,000. In June, the state also reduced the working week for civil servants to three days a week. Many workers in FCT are also informally only working three days a week. Kwara State also announced a three day week in June, but reversed this a month later. All state councils of NLC/TUC should adopt this arrangement at least until their state has made sufficient interim arrangements to enable their workers to afford to travel to work every working day.
Enugu State, the government has agreed to replicate the federal government's wage award of N35,000 for its workers.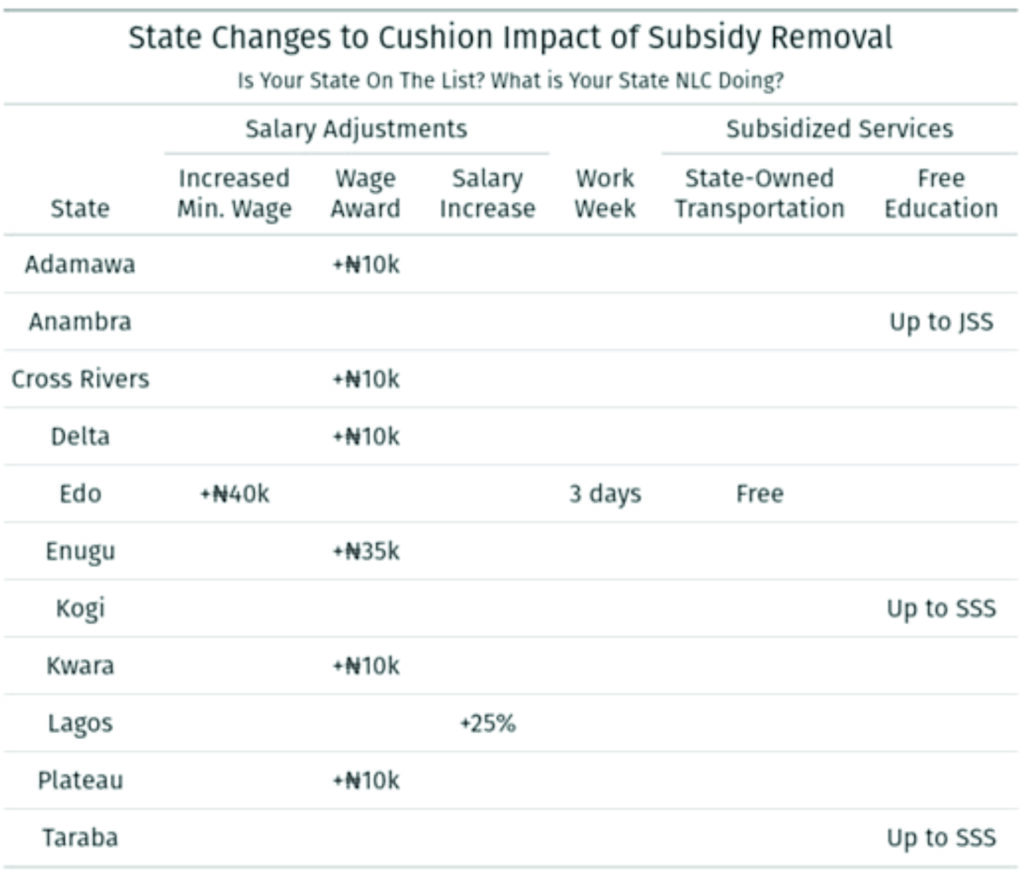 Kwara State also started paying a N10,000 wage award to its workers from July. Adamawa State government has approved and had started paying N10, 000 across board as transport allowances to all categories of workers in the state. Plateau State says it be make a similar N10,000 a month award. Cross Rivers State, Governor said the state is already paying N10,000 wage award to its workers. Delta state approved N10, 000 across the board for all civil servants in the state for three months effective from August. Gombe State says it has implemented an additional award of N10,000 for all state and local government workers.
In October 2022, the Governor of Lagos State announced a 25% increase in salaries for state workers.
Apart from demanding wage increases, trade unions in the states should be demanding that their states provide free public services. This is a very efficient method of giving palliatives to the citizens as leakage of revenue collection is also avoided.
Edo State introduced free transport service for passengers on all routes operated by the state-owned Edo City Transport Service (ECTS) in September 2023.
The governors of Anambra and Kogi states announced free and compulsory education in public schools in their states in September. In Anambra, education from Early Childhood Care and Development Education to Junior Secondary Schools would henceforth be free and compulsory in the state.
Similarly, In Kogi, the Governor declared education free from primary up to secondary school and this will cover examination fees for WAEC, NECO, and JAMB for all indigenes of Kogi State. Similarly, Taraba Governor declared free education in all primary and secondary schools within the state from this academic year.
Former governors in Kano, Imo, Osun, Akwa Ibom and Delta states, among others, made similar promises of free and compulsory primary education, without being faithful to the policy or showing consistency in its implementation. This confirms the view that it is only resolute action by the NLC/TUC and their trade union members will actually ensure that free education is made available to all as a basic right.
Trade unions could also be demanding the provision of free health care at least in the primary health centres of their states.
We need to ensure that this good practice is spread to other states so that all Nigerians can survive the current hardships. The level of collective action by the NLC/TUC and the other trade unions in the states will determine whether the workers win these demands. We need all comrades to raise these issues within their the NLC/TUC State Councils and with their trade union branches. We would be delighted to hear of any similar successes in other states so that we can update this call for action.